Who We Are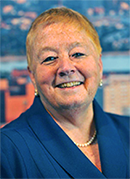 In 1995, Marijo McCarthy left a larger law firm, moving her practice from the congested streets of downtown Boston to an elegant Victorian house in Newton – eight miles west of the city and adjacent to the Massachusetts Turnpike.
Providing a seamless transition of client services, long-time office manager Joanne McCarthy-Widett, corporate and real estate paralegal Erin Vannasse and accountant / business manager Andrea Graveline joined Marijo to form the nucleus of our client-centered, small business law practice.
More About Marijo McCarthy
Marijo McCarthy has the background and experience to provide her clients with world-class legal counsel. Her list of credentials and achievements is extensive. The following are some highlights of her career thus far.
Marijo has worked for the American Library Association in both Chicago and Washington, D.C.
Upon returning to Massachusetts, she joined the Legal/Legislative staff of then newly-elected Governor Michael S. Dukakis.
Four years later, Marijo helped to form the structure for a newly-created quasi-public agency called the Massachusetts Industrial Finance Agency.
She has been an active member of the Smaller Business Association of New England (SBANE) – the New England region's premier small business trade association – for over 20 years, serving as Chair of their Board of Directors from 2001-2003.
Marijo is also a member of the Massachusetts Bar Association and
the Board of Directors for the Boston Local Development Corporation, which invests in Boston's neighborhoods by providing loans to small businesses.